CRUMBSUCKERS "Turn Back Time: The Early Years 1983-1985" 2xCD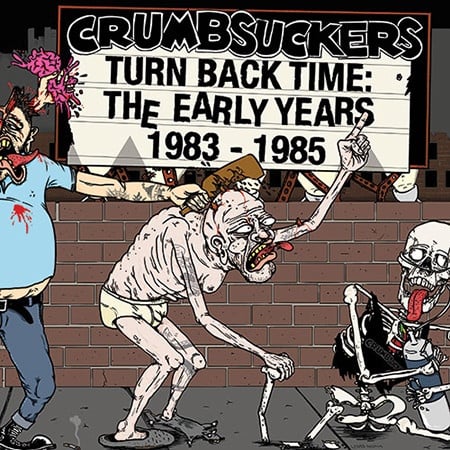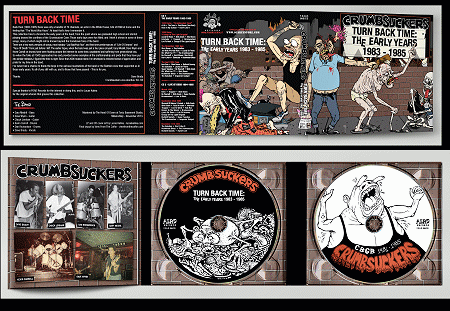 CRUMBSUCKERS "Turn Back Time: The Early Years 1983-1985" 2xCD
Classic demo era anthology of these NYHC/Crossover trailblazers!
2xCD housed in a 6-panel digipack, includes a 16 page booklet.
Euro import.
The wait is over! CRUMBSUCKERS "Turn back time: the early years 1983-1985" 2CD is finally out! If you're looking for crucial, full on energy 80's New York Hardcore, then look no further!! This is the most exhaustive, high quality retrospective of the pre-"Life of dreams" recordings, 69 songs including all their Demos (the legendary "Crumbsucker cave" demo 1983, "Charge of the light brigade" Demo 1985 and two unreleased tapes 1983-1984) + a bonus CD with 3 great sounding live sets 1984-85 at CBGB's… one opening for the Cro-Mags! This collection shows the band's natural evolution from basic, no frills early '80s Hardcore to the mad thrashing assault that made "Life of dreams" and "B.O.M.B." two unforgettable lessons of true NYHC crossovered with technical and well delivered Metal.
All the stuff included here features their former singer David Brady, and displays embryonic versions of all those anthems that were later re-recorded on their debut masterpiece + a bunch of unreleased tracks! As usual all the stuff here has been mastered from 1st generation tapes with extreme care and passion by the Hand of Doom @ Toxic Basement Studio, a real guarantee of quality and passion!
For those who are still not familiar with this mandatory band (shame!) make sure to read this great writeup about their classic debut album "Life of dreams"
https://theobelisk.net/obelisk/2014/02/04/spine-of-overkill-crumbsuckers-life-of-dreams/
It's the best way to get introduced to their awesome power… quote: "this was like the best of Bad Brains and Exodus rolled into one"!!! And IT'S SO TRUE!
TRACKLIST
1983 Demo "Crumbsucker Cave"
A-Ok
The Twist
Emil Mauer (You Dick!)
Kids In My School
Don't Like It
1985 Demo "Charge Of The Light Brigade"
(Just) Sit There
Shits Creek
Shot Down
Interlude
Trapped
Brainwashed
Live To Work
Charge Of The Light Brigade
The November 1983 Tape
Shot Down
The Solution
Jail Bait (Pre Hub Run)
(Just) Sit There
Oh, What Fun !?!
The Crumbsucker
Be Yourself
Emil Mauer (You Dick!)
Don't Like It
Genocide
Budweiser Blues
The April 1984 Tape
Hub Run
Shot Down
Bullshit Society
The Solution
(Just) Sit There
Super Tuesday
Be Yourself
Shits Creek
Oh, What Fun !?!
Shot Down
Budweiser Blues
The Crumbsucker
The Solution
Inspector Gadget
Bonus CD - Live At CBGB 1984-1985
March 1985
Intro
Trapped
Shot Down
Be Yourself
Shits Creek
Super Tuesday
Brainwashed
Live To Work
September 22nd 1985
Moment Of Silence / Prelude
Shits Creek
Shot Down
Face Of Death
Interlude
Trapped
Live To Work
Hub Run
Return To The Womb
Brainwashed
(Just) Sit There
Life Of Dreams
Charge Of The Light Brigade
Bullshit Society
Super Tuesday
The Crumbsucker
Inspector Gadget
November 11th 1984
The Solution
Don't Like It
Budweiser Blues
The Crumbsucker
Bullshit Society
Sweet Leaf